East Austin Lofts - NextHome Modern Real Estate Update
Posted by Kenneth Fox on Monday, December 6, 2021 at 7:32 PM
By Kenneth Fox / December 6, 2021
Comment

We've compiled the data and here's a summary of real estate activity for lofts and condos in the East Austin Entertainment District!
Defining East Austin Entertainment District:
West Boundary - I35
North Boundary - East 12th Street
East Boundary - Airport Blvd
South Boundary - Lady Bird Lake
A total of 75 Modern Lofts and Condos have been sold YTD through the 3rd quarter of 2021 in the East Central Austin area compared to only 52 units sold in the entire year of 2020. There's still a very high buyer demand for homes in East Austin and prices are reflecting that trend!
Taking a closer look YTD Q3 sales in 2021, the Tyndall has the most sales so far this year with 34 units selling by 9/30/21, an average sold price of $556,082 (98% of asking prices) and 58 Days on Market (new units). The highest price paid was $1,306,550 for a 2,114 sqft, 3 bedroom, 3 bath Penthouse Collection unit on the 6th floor with panoramic views and the lowest priced unitwas a 575 sqft, 1 bedroom, 1 bath unit.
Other neighborhood buildings with the highest number of sales so far this year were Fourth & - 13 units, The Santa Rosa – 8 units, Pedernales Lofts – 5 units, and Este Lofts – 4 units. There have been no sales in the East Village Lofts nor 1305 Lofts as of Q3 this year. Overall, the average selling price for a modern condo/loft market in the East Central Austin Entertainment District (included in this report) is $451,059 which on average is 103% of the asking price. The average Days on Market is 29 Days which includes brand new units listed on market before completion. Most units that were resales sold within 14 days.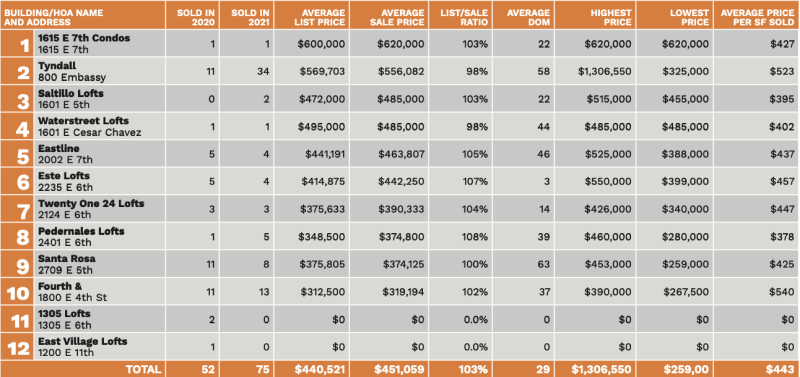 If you would like a full copy of the NextHome Modern Real Estate report for Q3 which includes a list of all homes sold, list/sale ratios, days on market, as well tools to help you buy or sell an East Austin home, please stop by our office in East Austin - 1601 E 5th, #102 or contact Ken Fox, [email protected]